Weddings
Experience the wedding of your dreams at the InterContinental Bora Bora Le Moana Resort
Weddings
Experience the wedding of your dreams at the InterContinental Bora Bora Le Moana Resort
With our crystalline lagoon painted in thrilling shades of turquoise, sunshine-filled weather, infinite ocean vistas and postcard-worthy sandy beaches, Bora Bora is the picture of tropical romance. For a wedding, anniversary, honeymoon or intimate getaway, there's no place more beautiful.

Our celebrations of love range from simple to elaborate, and all are rooted in authentic Polynesian culture. Our team can organize everything from candlelight dinners to traditional Tahitian wedding ceremonies. Throughout your special stay, we pamper couples with delightful gifts and surprises; after the wedding celebration expect to return home with indelible memories of Bora Bora.

From a decorated table on the sand to an intimate spread at the end of a pontoon, we are well versed in creating unforgettable dinners. The InterContinental Bora Bora Le Moana Resort is home to experts who love to make magic for our guests, and can craft a flawless romantic evening to meet their every desire. With fresh seafood, and world-class wines on hand, plus sparkling stars and candlelight, our seductively secluded venues shine during bespoke destination dining experiences.
When you have a Bora Bora wedding, you're assured a spectacular backdrop. We can organize the most unforgettable event, whether it's a Western-style exchanging of vows or a unique Polynesian celebration. Our concierge team has extensive experience in planning ceremonies in traditional Tahitian fashion, and boasts a wealth of both local and international knowledge to assist you in making the wedding of your dreams come true.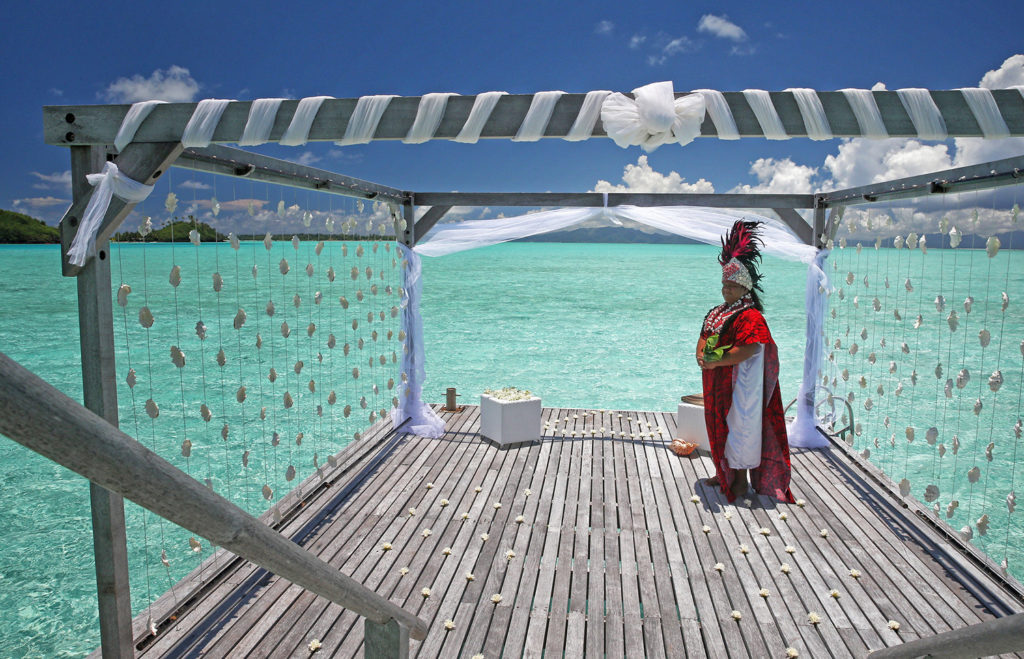 The Moana Intimate Blessing
The Moana Intimate Blessing is a small Tahitian wedding ceremony that takes place on the deck of Le Moana, where a local priest conducts the ceremony along with a traditional band. We use ocean water and our sacred conch shell, pu, symbolically to purify your union. A tifaifai, or Tahitian wedding tapestry, is also used to join you with your spouse in Polynesian tradition. At the conclusion of the ceremony, music accompanies newlyweds as they are escorted to their bungalow, where a bottle of Champagne and wedding cake await.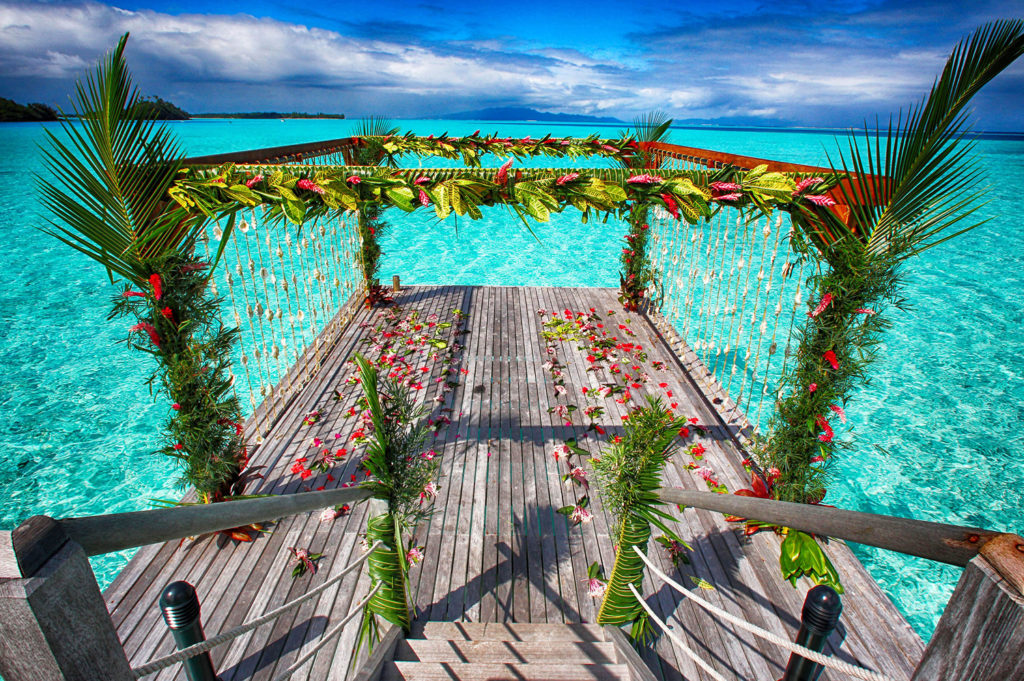 The Moana Royal
Imagine the Moana Royal ceremony as a grand Tahitian wedding celebration. First, a musician escorts you to the Tahitian priest who will celebrate your union alongside a traditional band. The ritual includes deep sea water, used symbolically for its purifying properties, as well as a Tahitian patchwork quilt called tifaifai, which envelops the new couple in keeping with Polynesian royal tradition. Afterward, watch Tahitian dancers perform just for you. After the ceremony, return to your bungalow, where a bottle of Champagne and wedding cake await, along with a plush bed decorated with tropical flowers.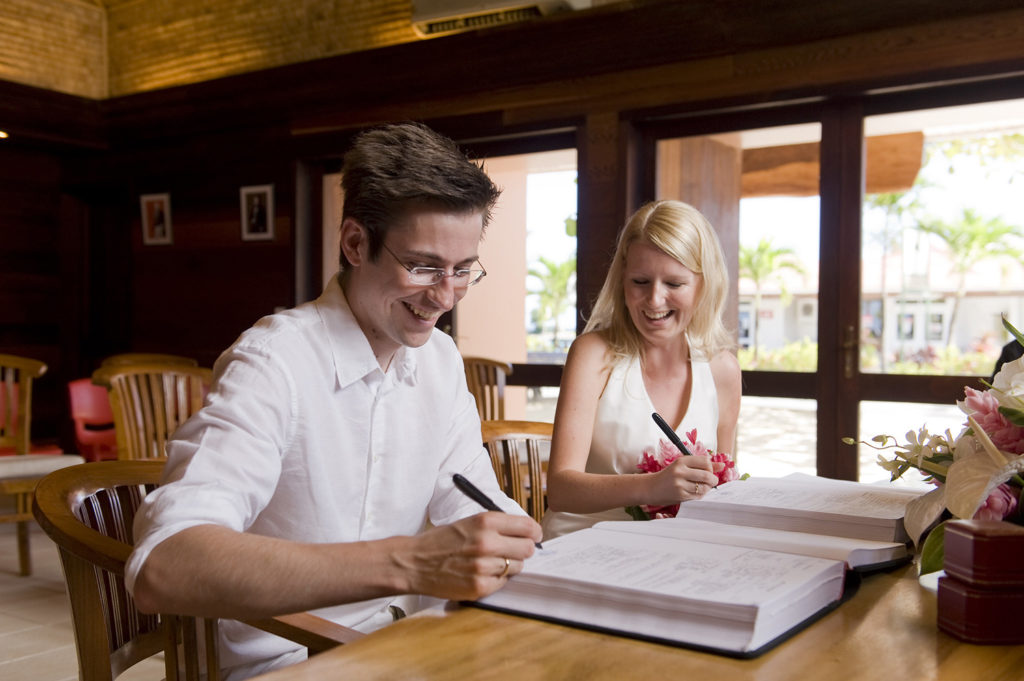 Civil Ceremony
Weddings on the island of Bora Bora are now legally binding for American and Canadian nationals. Couples who wish to be legally married can now experience a memorable and meaningful ceremony in one of the most romantic and spectacular settings on Earth. Please request our outline of the necessary steps and documents required in order to ensure your ceremony is legal in French Polynesia. Please note this process takes approximately three to five months to complete, so be sure to plan ahead.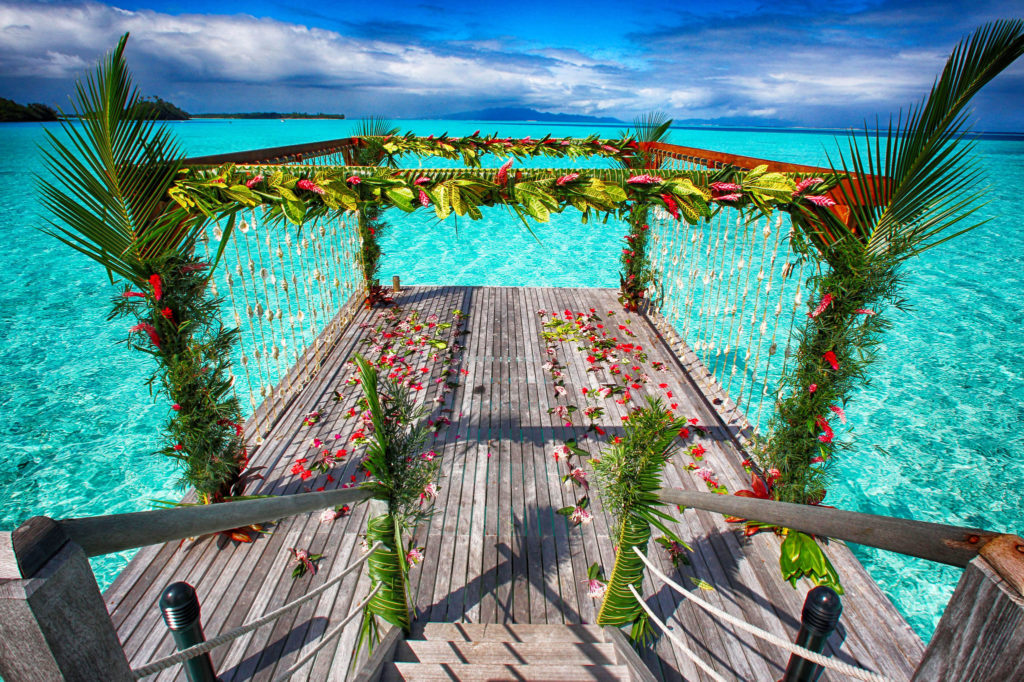 Deck
Our most intimate traditional ceremony takes place outside on the deck, festooned with tropical flowers and shells, with breathtaking panoramas over the lagoon.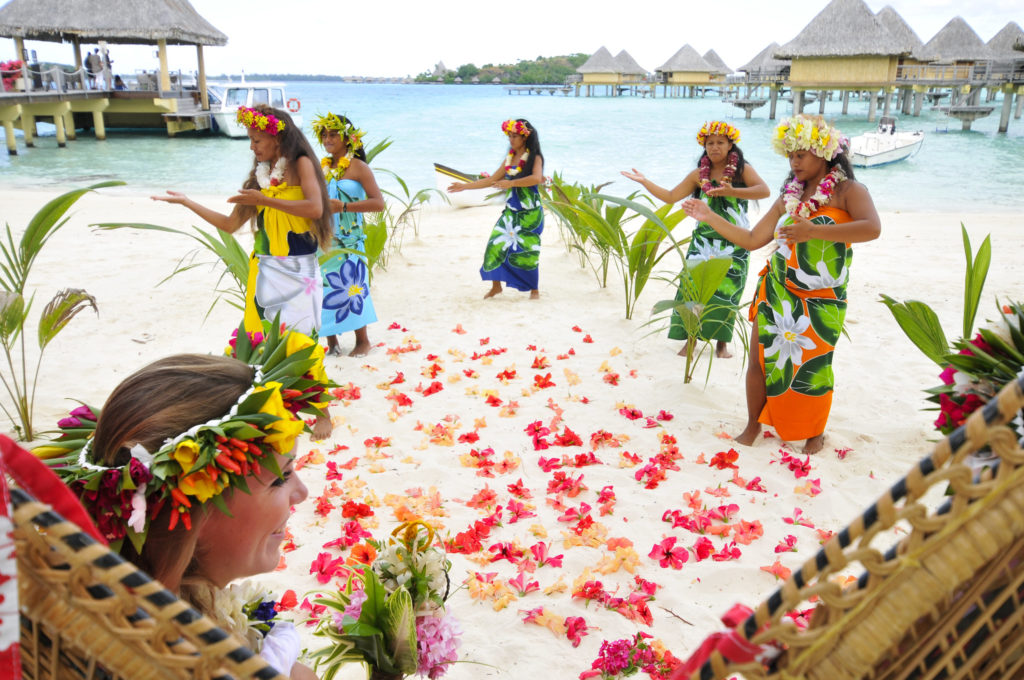 Main Beach
The main beach is a stunning setting for a Bora Bora wedding, with white sand between your toes and majestic Mount Otemanu in the background. In the evening, celebrate with a wedding reception under the stars. For a larger affair, we can set up a tropical cocktail reception or buffet dinner on the beach, complete with views of the iconic lagoon.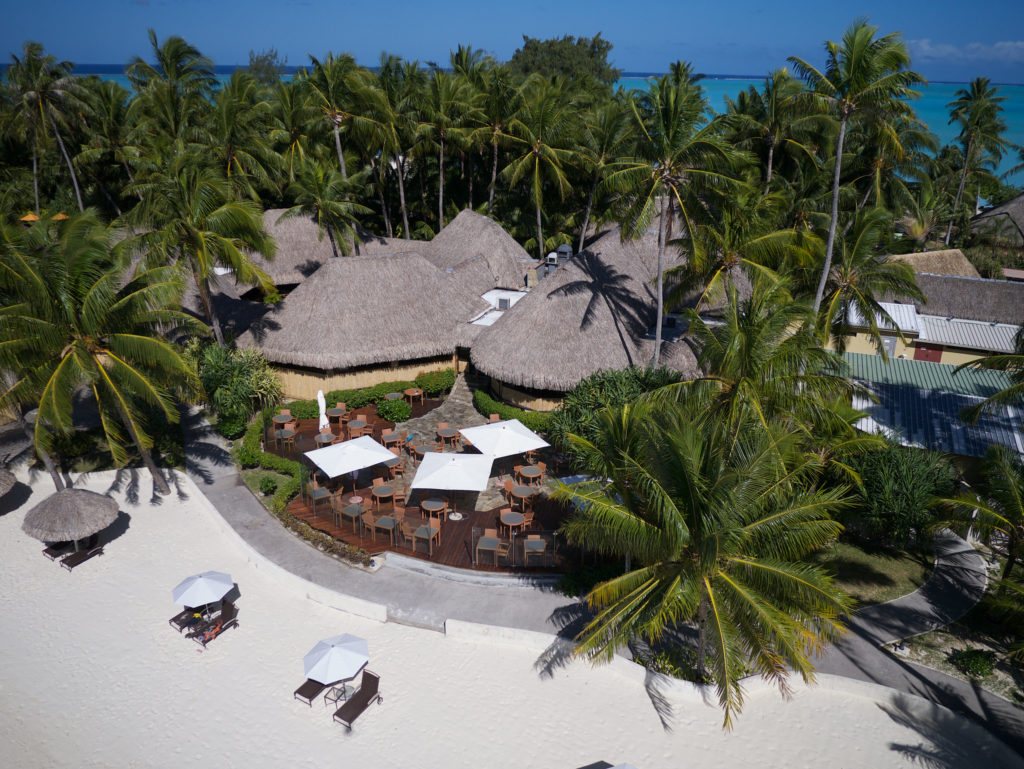 Main Restaurant
We host beautiful dinner receptions at our main restaurant, which features authentic Polynesian ambience courtesy of a thatched roof, Tahitian décor and one-of-a-kind views.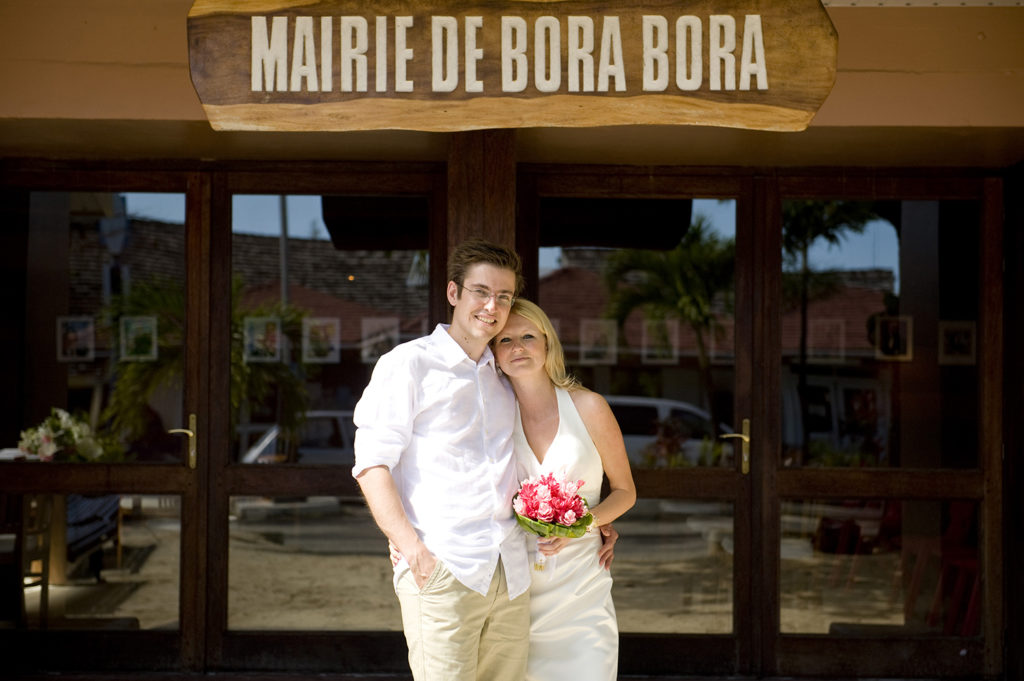 City Hall
If you wish for your marriage to be officially recognized, our concierge team will be happy to assist in preparing your application. Official wedding registrations take place at the Town Hall in Vaitape on the main island of Bora Bora.
The Romance in Bora Bora Dinner
Savor a lavish meal for two at Noa Noa restaurant, where your romantic dinner is accompanied by a bottle of Champagne, tropical flowers and seductive lighting.
The Moonlight Gastronomic Dinner
Dine to a soundtrack of waves gently kissing the shore on the resort's private beach. This private moonlit dinner is served at water's edge, with stars and satellites twinkling overhead and a bottle of Champagne to induce even more magic.
The Gastronomic Bungalow Dinner
Indulge in Noa Noa's culinary creations, delivered to your bungalow terrace. Watch for shooting stars as you enjoy a gourmet meal in private, while sipping tropical cocktails and a bottle of Champagne.
The Gastronomic Dinner on the Dock
For a night to remember, we will set up a romantic table for two at the end of a private pontoon over the lagoon. It'll be just you and your partner, a gourmet multi-course meal and the spectacular night sky.